The worst fears of Golden State Warriors were confirmed on Wednesday; Kevin Durant did suffer from a torn right Achilles tendon during his injury of Game 5 of the NBA finals held on Monday night. He underwent surgery for the injury on Wednesday.
After the Warriors' coach Steve Kerr told media about not having an update on the 2-time NBA Finals MVP player, Durant posted a picture of himself lying on a hospital bed.
In the post, Durant did not mention his time of return but did said that basketball is his biggest love and we wanted to be out there on the court because that's what he do. He wanted to help his teammates on there quest for third NBA champion win.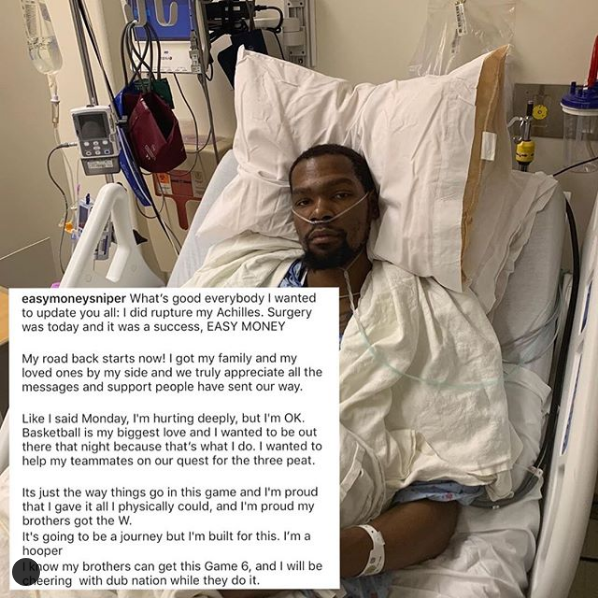 During the remarks of Game 6, Steve Kerr said, "we do not have any news on the Kevin right now. We had a feeling that the worst that could happen to him would be a re-calf injury. That was the advice and information we had at the moment. At that point, he was clear to play but then the Achilles came as a complete shock to us."
Before making a return on Monday night, Durant had missed nearly a month with a calf injury. Now with this Achilles tendon injury, he is most likely to miss the entire 2019-2020 season as this kind of injury takes up to a year for a full recovery.
Durant suffered the injury during the 2nd quarter of the Warriors game 5 win. Durant was dribbling the ball and trying to make a move on Raptors' Serge Ibaka.
He limped on his leg and then fell on the court, sitting there for a short while, before he was helped walk off the court and to the locker room. He was later seen wearing a walking boot while using crutches.
Related Content